Blog
Subscribe to posts
By Micah Ward  | November 17, 2022
"It's hard to describe the spirit of VECA," according to Valdosta Early College Academy Principal Dr. Johnnie Marshall. "If an individual walks into the building, one can experience the indescribable synergy."
Every day, students walk into the building with a purpose: to be the best versions of themselves they can be. However, they're not simply students—they're scholars. That's the mindset that Valdosta Early College Academy Principal Dr. Johnnie Marshall has instilled in his student body.
"When I say scholars, I am referring to the students at Valdosta Early College Academy," he says. "I want them to realize that they have great potential, and through the journey of our program and life, I expect them to embody intelligence and character. Regardless of the situation or circumstance, I anticipate their actions to exemplify perseverance, grit, humility, patience, kindness, and responsibility; that is the scholarly way."
About VECA
VECA is a college preparatory program that serves students in grades 6-12. The school is celebrating its 15th year of existence, and Marshall has been there since the beginning.
"I love to say this: Valdosta Early College Academy has raised me as an educator by being exposed to phenomenal and passionate educators," he says.
Marshall was first introduced to the program as a junior undergraduate student at Valdosta State University during VECA's first year of existence. He student-taught under the tutelage of a dynamic and masterful science teacher and went on to begin his first year as a Physical Science and Georgia studies teacher. After making his way to the assistant principal role, he finally took the helm as principal in 2020 at the start of the pandemic.
At that time, his main focus was ensuring that every student was able to reach their academic potential, despite the circumstances.
"During the pandemic, our faculty and staff focused on keeping everyone safe while providing an equitable learning community that catered to our in-person and virtual learners," he says. "We wanted to ensure every learner received access to the same instruction. Our learning ecosystem leveraged technology skills and resources to implement synchronous learning."
Doing so, he explains, required the collective work of every individual at the school, and that allowed them to weather the height of the pandemic.
"Due to ever-changing safety protocols, we had to alter several initiatives and early college strategies to ensure faculty, staff and scholars were safe," he says. "Although the previous two years have been challenging, I appreciate the faculty, staff, scholars and parents for gracefully pivoting when warranted. Our scholars continued to soar academically through the pandemic through collective teacher efficacy and strategic planning. Our scholars were able to exceed expectations while navigating the global pandemic. Collectively, we continued to build upon the legacy of VECA."
Setting priorities
If you were to sit down and have a conversation with Marshall, you would quickly learn that he values prioritization and setting goals for his school, and ensuring that students and faculty are understanding of his mission.
"My priority this year as principal and lead learner is to reinstate essential components of our early college model that have proved to be successful and enhance our scholars' experience, all while striving for excellence as a program," he says. "Our theme this year is 'Blazin' with Purpose.' We are intentional with our initiatives and understanding our 'why.' Furthermore, through relationships, relevance and rigor, we hope our scholars are empowered to use education and their life experiences to determine their why and their purpose."
One of those essential components he knows to be so impactful, he says, is relationship-building.
"One of our core values is relationships," he explains. "The cultivation of positive, authentic relationships is essential to our learning community. I believe cultivating effective relationships is the responsibility of every stakeholder in our community; administration, faculty, staff, scholars, parents, and community members. Through these intentional and genuine relationships, we learn about our scholars, providing us the opportunity to address the whole child. We are purposeful in creating, sustaining and enhancing our relationships with one another."
One way they're doing this is through their peer-mentoring program which is scheduled to start back up in December. What's unique about this program is that upperclassmen are paired with underclassmen, which helps give younger students a student role model to look up to while giving older students an opportunity to lead and set good examples.
"During the peer-mentoring program, we pair our high school scholars with the middle school scholars," Marshall says. "Once a month, the mentors and mentees eat lunch together. During these planned interactions, students discuss their interests, goals and their aspirations with one another. We also conduct exciting activities like team Kahoots with iPads."
"We are very intentional regarding partnering students, and we consider their personalities, interests and aspirations when making pairs. The intentionally deepens the student body relationships. Our high school scholars take ownership of their role as mentors and hold their mentees accountable throughout the year."
In terms of education technology, the school has implemented 1:1 iPads for students to document learning in a unique way. The leverage of Apple technologies has significantly impacted 21st-century teaching and learning at VECA and speaks to the uniqueness of their innovation as a school. Scholars are able to use iPads to create projects that amply their voice and choice in their assignments.
Since the pandemic, addressing the whole child is more important than ever. As schools across the country focus on helping their students bounce back, VECA remains vigilant in meeting the needs of each and every scholar using the principles associated with social-emotional learning.
"One way the school incorporates SEL is through their PBIS, the Positive Behavioral Interventions and Supports initiative," he says. "At VECA, scholars are expected to 'Exceed the KRRP Way.' That acronym stands for Kind, Respectful, Responsible and Prepared. Students who excel academically and behaviorally receive MatchCat points through the PBIS Rewards app. These points are redeemable for incentives and celebrations throughout the year."
In addition to encouraging student-student relationships, Marshall wants faculty to be a part of the process as well. Through the school's traditional advisement protocol, scholars have the chance to meet with their assigned advisor for a lesson that's tailored to meet their academic needs.
"We want our scholars to understand the importance of goal setting, self-reflection and high expectations, both academically and behaviorally," he explains. "Scholars report to their assigned advisor for a lesson during the advisement session. The lesson ranges from various topics, and some include time management, college expectations, grit, and self-efficacy. In addition to the lesson, scholars calculate their GPAs and determine how they can improve their grades. Because we are a literacy-focused academy, scholars also monitor their Lexile scores for college readiness."
The beautiful aspect of the advisement program, he explains, is that it helps remove uncertainty for students transitioning into high school. Middle school students report to the high school teachers for advisement, allowing them to begin building those relationships early on. Additionally, high school students report to their middle school teachers, which allows them to reconcile with their previous teachers who have already established solid foundations with those students.
Historically, VECA scholars haven't had access to many elective courses. Fortunately, those opportunities have become a reality this year.
"Through the support of our Valdosta City Schools superintendent, Dr. Todd Cason, we were fortunate to hire a STEAM teacher and Band teacher this year," he says. "The additional two electives have made a tremendous difference. Approximately 25% of our students are participating in the band, and several are marching in our district's high school band. Most of the student body gets exposure to our Engineering and Technology teacher. Scholars learn the engineering design process by solving real-world problems and creating solutions. Also, scholars are learning coding and graphic design. The new additions have enhanced our scholars' experience in the program."
As was the case for many educational institutions across the country, VECA was forced to put field trips on hold during the pandemic. For Marshall, these out-of-the-classroom experiences help excite students for their future careers, a crucial component of any early college academy.
"Learning experiences beyond the classroom provide meaning and relevance to curricula," he explains. "This year, I urged our faculty to consider learning opportunities and field trips beyond VECA's brick-and-mortar. We have increased our field trips for our scholars. In addition, we are leveraging Valdosta State's campus. We have taken our entire student body to VSU symphony orchestras and collaborated with academic departments and professors on campus. We have so many other trips planned for the year. Through these experiences, I want scholars to make connections to their learning and get excited about their future careers."
"Each year, the 9th-grade scholars also visit Washington, D.C., to understand their role as productive citizens and learn how history has shaped our society through an interactive and engaging learning experience with the Close Up Foundation. VECA has resumed the VSU-sponsored trip. The twelfth cohort of VECA scholars visited our nation's capital in October 2022."
Valdosta Early College rests essentially in Valdosta State University's backyard. Thanks to their partnership, scholars' transition to college and/or the workforce is as seamless as possible. VECA has partnered with VSU's Career Opportunities Department for the last three years. Every Monday, seniors visit the Career Opportunities office to learn essential career skills like resume building, interviewing techniques, professional/business dress, workforce expectations, and career interest surveys.
"So many of our dual enrollment students already have jobs, but we discovered that sometimes balancing school life, home life, and work can be challenging," he says. "We wanted to add the Work-based Learning class as a key component to help them evaluate their load, allowing them to improve time management skills by planning their week."
Seniors can either work jobs directly on VSU's campus, in the community or as ELA or math AVID tutors for the underclassmen.
"The work-based learning initiative has been a blessing and I'm so grateful for our teachers, our district, but also the scholars for taking advantage of the initiative by helping them build navigational capital and prepare for life beyond VECA."
Additionally, both juniors and seniors enroll in dual enrollment programs. Since its implementation in 2017, the program has shown tremendous success. Between 2017 and 2022, 98% of students passed their college courses. Additionally, 73% of their final course scores were A's and B's. Over $450,407 was saved in in-state tuition alone over the past five years based on the cost of tuition at VSU in 2022.
VECA's spirit
Marshall's role as principal to him is more than simply a leadership position—it's his calling. His ability to inspire and lead the next generation of young scholars came not by chance, but thanks to the efforts of those who poured into him during his first years at the school.
"A plethora of individuals have considerably contributed to my growth," he says. "As I reflect on our school's 15-year journey, I am appreciative to witness a program that has created a learning community that thrives by perseverance, innovation and collaboration. It has been a blessing to experience the vision and mission of the program manifest through our entire learning community—administrators, faculty, staff, scholars, and parents."
Anyone who has the opportunity to meet Marshall and the scholars and faculty at VECA will very quickly notice that there's something truly special about the program.
"It's hard to describe the spirit of VECA," according to Marshall. "If an individual walks into the building, one can experience the indescribable synergy. Our faculty and staff are dynamic and passionate about our mission. As Rita Pearson describes, they are our scholar's champions, the human lighthouses that provide guidance, care, and support.
"Our scholars are resilient learners who enter the program as timid sixth-graders but leave our nest as confident and distinguished graduates with approximately one year of college credit, scholarships, and determined minds to succeed in life."
---
The Combahee River flows southeast through South Carolina, a 40-mile route that spills into the Saint Helena Sound. More than a century and a half ago on June 1, 1863, the Combahee turned the tide of emancipation when Harriet Tubman and her regiment of 150 Black Union troops led more than 700 escaped slaves to freedom aboard two gunboats. For Tubman, the river marked her heroism as the first woman to lead an armed US military operation in the Combahee Ferry Raid. For illustrator, comic creator, and scholar
Ajuan Mance
, it's symbolic of the movement — geographically, between the North and the South, and politically, from the Emancipation Proclamation and Juneteenth, to the Civil Rights Act — Tubman and other activists have made throughout history.
"Their activism challenged prevailing systems and policies that limited when and how Black people could move through the world," Mance says, comparing Tubman to civil rights activist Rosa Parks. "These limits on Black movement were not only the practical tools for oppression, but also the symbols of white control of Black bodies. Harriet Tubman used movement from the South to the North as a tool for freeing other Black people, and Rosa Parks rejected Black people's conditional access to transportation. These women's activism was really about restoring to Black people the right to move freely throughout their world."
In celebration of Juneteenth, Mance is revisiting a series of digital drawings created on iPad Pro titled "The Ancestors' Juneteenth," in which she places historical Black figures in present-day settings to reflect on Black people's journey from the 19th to the 21st century. In these illustrations, Mance draws ink on paper before she snaps an image in Adobe Scan on her iPad Pro. In Procreate, Adobe Photoshop, and Adobe Fresco, she colors her scanned image non-photo blue, simulating the process of creating comics, while using Apple Pencil to add layers of color — a workflow she previously completed using a light table and analog tools.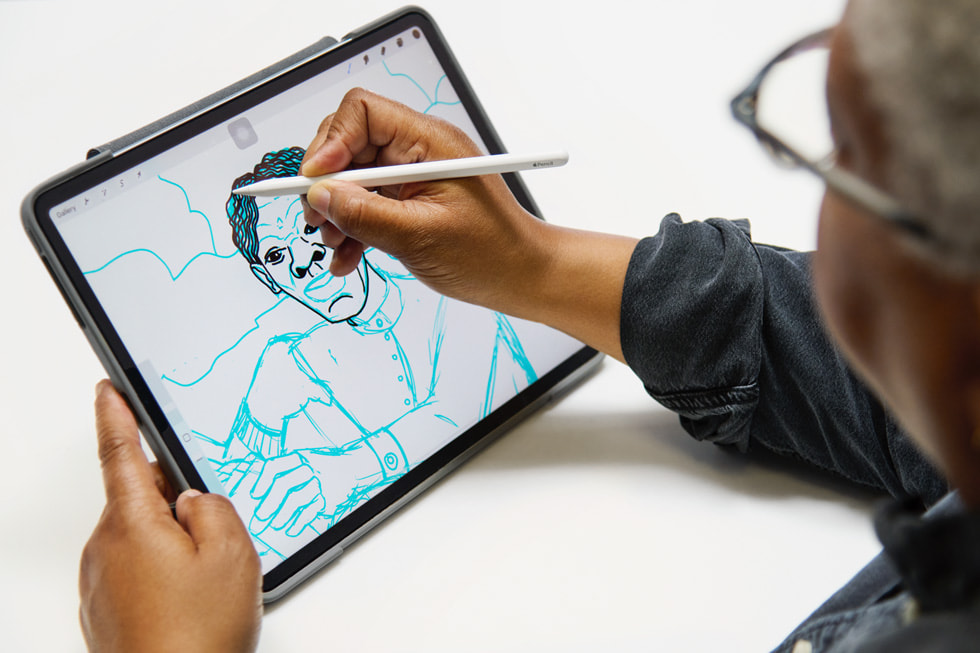 As an artist who often works on a larger scale, Mance appreciates the ability to zoom all the way in on a snippet of a giant canvas on iPad Pro. "iPad and Apple Pencil make it easy for me to draw, manipulate, and add color and effects at the micro level," she says. "So the closer people look, the more they will see."
As part of the Juneteenth series, Mance pictures Parks and Tubman at a picnic on the banks of the Combahee River. "They were pioneers for whom freedom of movement was so much a part of their impact that they hold this iconic role in our minds. All of the marching Rosa Parks did, getting arrested, walking up the courthouse steps, so that we have less obstacles today than we did during her lifetime; and Harriet Tubman, walking from the South to the North at least 13 times to escort other Black people to freedom — both of these women deserve a respite. I thought that all they might want to do today is sit by the river, take a load off of their feet, and just let the water do the moving," Mance says. 
Mance describes herself as a history detective. She will spend hours digging through archives, hunting for the unknown in the 19th-century Black experience, and poring over primary sources, religious texts, photos, and other historical documentation. Whether she's preparing for a lecture at Mills College in Oakland, California, where she teaches African American literature, or beginning a new piece of art, she will always start with research to call to mind an image of the people and the time period she is exploring.
For "The Ancestors' Juneteenth," a work of speculative fiction, as she describes it, Mance contemplates which historical figures across different periods of time would be friends, and even what their dialogue would be. At Parks and Tubman's picnic, intricately detailed down to the books they are reading, she emphasizes that whatever they are saying will have a touch of humor to it. 
"My goal is to really humanize them," Mance explains. "These are esteemed people who I respect, but I also think we need to understand them and experience them as people who walked
the earth the same way that we do. That creates a sense of intimacy with our history that I find really empowering and inspiring."
Part of humanizing these historical figures lies in their dialogue, but it's also in their features. To bring those features into focus, Mance casts them in a light and mood uncommon to the way the world knows them. For Tubman, who was almost never seen smiling, Mance emphasizes a jovial grin. In all of her portraits, she starts with the nose, works her way down to lips, up to the eyes, and then finally the hair and the shapes it creates. "That African heritage that is almost written on the body and that signifies our history — all the ways that we wear our heritage are really compelling to me," she says.
Mance first started using iPad Pro and Apple Pencil for her artwork while teaching a digital drawing class at Mills College. She remains impressed with how iPad has streamlined her workflow. "I can create a sketch and then ink over it all in the same app and all on the same device," she says.
She also credits iPad for making the arts accessible to her students and equipping aspiring artists with skill sets that work across multiple devices, whether they're working in Adobe Fresco or Procreate on iPad, or transferring a project to Mac.
"iPad has put the production of art into the hands of everyone," Mance continues. "Voices and aesthetic visions are getting out there that would not have been able to reach a broad audience just 10 or 15 years ago."
Though the Emancipation Proclamation was signed into law on January 1, 1863, it took more than two years for the legal right to freedom to be recognized for all Black people. On June 19, 1865 — celebrated as Juneteenth today — slavery officially came to an end in Texas as federal troops marched to Galveston.
"Juneteenth is the day when legally all of America saw Black people the way they'd always seen themselves: as human beings with the right to be free," Mance says. "My hope is that pairing Black people together from throughout our history and setting them in the present will be a symbol of unity that demonstrates that no matter how spread across the nation we are, even with divided historical experiences of Civil War and freedom, we are one community."
FEATURED on Apple Newsroom | October 5, 2021
At first glance, it might not seem that Ben Robinson, 16, and Lyndsey Balfe, 38, have much in common. They live in different countries, are a generation apart, and have never met one another.
But they are connected through a shared experience: They both taught themselves how to code, and are now using Swift and the rest of the Apple ecosystem to solve real-world problems, pursue their passions, and teach others.
Ben Robinson lives with his family in London, England. He grew up fascinated with technology, so at age 13, he taught himself how to code using Apple's Everyone Can Code resources.
"Swift Playgrounds and then eventually Xcode were always approachable," says Ben. "It always felt like it was doable to take that next little step that then led on to creating a full program."
Ben also struggled with panic attacks and, as a result, changed schools a number of times. He credits learning to code with helping him focus on something other than his anxiety.
At 14, Ben released his first app on the App Store called Anxiety Relief: Find Your Calm after one of his therapists suggested he start deep breathing exercises.
"A lot of the apps I had seen at the time were either meditation-focused or weren't free, so I just wanted to build a free tool that really helped me and helped others as well," says Ben.
Ben's mother, Kara, noticed an immediate difference in her son.
"I could see how calm it made him," says Kara. "I think he found that coding was something he could use to see a path through his anxiety. Out of a really bad experience, he created something really positive that could help others too. And now coding has become his passion."
Earlier in the pandemic, Ben launched a second app — a game that allowed his friends to play together remotely — and released updates to his first app, incorporating tools like Siri Shortcuts and widgets.
Collectively, Ben's apps have been downloaded thousands of times, and he is currently designing his third: a running app that works in conjunction with Apple Watch.
This year, Ben was selected as a Swift Student Challenge winner as part of Apple's annual Worldwide Developers Conference (WWDC). He has also watched WWDC videos going back years that have helped him gain insights into app creation.
"There's such an incredible developer community around iOS development, and there are so many resources online," says Ben. "I can always find the information I'm looking for about different frameworks — there are so many people who are thinking about the same problems you're facing and offer their advice through articles and forums."
As for the future, Ben hopes to build on his work as a developer and explore the fields of machine learning and artificial intelligence. He has also been asked to help run one of his school's coding clubs this year.
"Supporting the coding club and helping others develop their enthusiasm for programming excites me," says Ben. "My love for coding has done so much for me, and I really want others to feel the same way."
At Swords Community College in Dublin, Ireland, teacher Lyndsey Balfe starts her fourth-year woodworking class by making sure each student has their iPad ready alongside their rulers and scalpels. The 15- and 16-year-olds are working on cutting a leaf out of wood, and today's class is all about the process — and how coding can help inform it.
"Anyone who has done a practical subject with me before will know that when we're doing this, we take pictures of all the different steps," instructs Balfe, who has each student upload their pictures into Keynote. "So your instructions are your recipe. Like when we were doing coding — what we're doing is we're breaking it down into steps, and we're going to follow those steps."
Balfe sees the magic of coding everywhere, and uses its logic and structure to teach not just woodworking, but also graphic design, applied technology, and construction studies.
"I find the mind-set of coding a more thoughtful approach," she says. "In breaking things down into steps, you're thinking about the why. You're thinking about the bigger picture and everything that's involved in it. We want to develop those kinds of critical thinking skills with our students so that they're equipped to tackle whatever challenges the future holds for them."
Balfe knows firsthand what it's like to learn coding because she taught herself only five years ago. She started with online tutorial videos but quickly grew frustrated.
"When I first started coding, it was very hard to find any kind of resources or to know where to go," says Balfe. That is, until she discovered Apple's Everyone Can Code.
"I just found when I started with Swift Playgrounds that it was easier," says Balfe. "The activities were a lot more visual, and you're figuring out puzzles. You also only get the number of instructions you need at the time — so it eventually gets bigger, but it never feels overwhelming."
Around the same time, Balfe became an Apple Distinguished Educator and joined the teaching staff at Swords, leading the school's 1:1 iPad program, which provides an iPad for each student and faculty member.
"Lyndsey has taken iPad, a suite of products like Keynote and Pages, and the principles of coding, and transformed the way we approach things," says Aoife Smith, Swords Community College's principal. "And that stems from the fact that she lives and loves her teaching and her students. And they love her back. But also she understands some of the difficulties that they may have, and she wants to help them through that."
Balfe was diagnosed with dyslexia 10 years ago, and that perspective informs how she teaches. It is especially evident in her coding class, where she asks students to design an app prototype for someone living in a nursing home.
"I wanted them to consider what would happen when people with disabilities would use their apps," says Balfe, who gave each app team a different scenario to consider. "One group had to experience their app as if they had arthritis in their fingers, and another had a visual impairment. And so we looked at the apps through different lenses."
Balfe hopes that her classes provide a pathway for her students to find their own calling, regardless of the subject.
"My main hope is that they can find their passion — something they're going to enjoy doing for the rest of their lives," she says. "I love giving them as many different opportunities as I possibly can to find the thing that gives them that spark. I love teaching, so I hope they find something like that for themselves."
Student Marcel Czubak, 15, credits Balfe, who he refers to using the Irish word for teacher, "oide," as the catalyst for his own exploration into coding.
"I went online and I've done a few Swift Playgrounds, and I've gotten more into it," he says. "But Oide Lyndsey gave me the strength to do it."
In celebration of Europe Code Week, Apple has launched an Inclusive App Design challenge that can be found at apple.co/codeweek. Teachers can use the challenge to help students learn about inclusivity and accessibility via step‑by‑step instructions, supporting resources, and tips to tailor the activity for learners of all ages. Students will identify problems they care about, and then plan, prototype, and share app ideas that everyone can access and understand.
"Fa'afetai lava mo le avanoa" ("Thank you for the opportunity")
Students at Bromley School in Christchurch, New Zealand, used iPad and Keynote to create a prototype Samoan language app for younger learners. Students Leonie Bradbrook, Talia Uasi, and Siosaia Uasi test the app prototype.
B
romley School, a primary school that serves some of Ōtautahi Christchurch's underprivileged communities, is readying Aotearoa

 

New Zealand's next generation of leaders. Principal Scot Kinley says ensuring equitable access to the most innovative tools for learning is critical to his students' empowerment.
"We challenge our students to think big — we want them to make a positive difference in the world," says Kinley. "It's our job to equip them with the necessary knowledge and skills they'll need to thrive. We know we can do that by fostering independent and self-directed learners, and iPad is a key tool in this mission." 
At Bromley School, every teacher and middle school student has their own iPad. There's an Apple TV in every classroom, and a fleet of Macs for coding. Since introducing iPad, Bromley students are setting the bar for what's possible when you inspire the minds of young learners. They're winning regional digital creativity competitions, taking an active role in their learning successes, pitching their ideas to local community groups and investors, and sharing their experience with other schools.
Students Azariah Abohay, Amelia Abohay, and Jeremiah Laufiso show Principal Scot Kinley their app prototype, built in Keynote, which allowed them to combine text, drawings, audio recordings, animations and hyperlinks.
"Tālofa lava, e te tautala Gagana Sāmoa?" ("Hello, do you speak Samoan?")
When their much-loved Samoan language teacher moved to a local high school, many of Bromley's Samoan students wanted to continue to learn Gagana Sāmoa — the language of the Samoan Islands — but no replacement teachers were available. 
"A lot of our students' parents or grandparents are fluent in their home language, but some of our students just know the basics — I had the same experience growing up," explains Mele Togiaso, a teacher at Bromley School. "I'm part Māori and part Samoan, and I'm only now learning my family languages as an adult, thanks to a passionate group of kids!"
A group of students from years 3 through 6 (ages 8 through 11) asked Togiaso to help them find a way to continue their lessons. Together, they formed an inquiry group — the Digi Navigators — and started exploring apps, books, and websites they thought might help.
Unfortunately, nothing fit their needs. Some apps relied too heavily on text for younger learners, some didn't provide audio to help with pronunciation or images to help with comprehension, and some didn't include fun games to keep students engaged and on track.
The Digi Navigators were undeterred.
Bromley's Pasifika students turned to teacher Mele Togiaso to help them find a way to continue their Samoan lessons. Togiaso used Apple's App Design Journal to help guide the group through the app development process. Togiaso checks on students Amelia Abohay and Jeremiah Laufiso's progress.
"We decided to create a prototype for an app called Let's Learn Samoan, because all of the kids at our school have access to iPad and we wanted it to be accessible to everyone," says Jeremiah Laufiso, a year 5 student.
The Digi Navigators created their app prototype in Keynote, the powerful presentation tool that comes included with most Apple devices, because it allowed them to combine text, drawings, audio recordings, animations, and hyperlinks in one place — all essential elements of their dream app.
Togiaso used the App Design Journal from the
Everyone Can Code curriculum
, available as a free download from Apple, to help guide the group through the app development process. "It's super helpful," Togiaso says. "I share the Journal with anyone that asks how we created our app, because it provides such an easy, step-by-step process to follow."
Bromley School student Azariah Abohay uses Apple Pencil and the Adobe Photoshop Sketch app to create an original illustration of a

 
fale
 

(a traditional Samoan building) for the app.
The Bromley School students sketched illustrations with Apple Pencil, created animations in Keynote, and recorded voice overs using the iPad's built-in microphone.
After brainstorming ideas and creating wireframes for their app, the students divided into content creation teams, sketching illustrations with Apple Pencil, creating animations in Keynote, and recording voice overs using the iPad's built-in microphone.
Testing was also an important part of the process. "This is where we discovered bugs in our prototype, and got feedback on how we could improve our app," says Amelia Abohay, a year 6 student. "A lot of different groups around our school helped by telling us what they liked and didn't like, and giving us ideas for how we could make it even better."   
The Digi Navigators also met with a Gagana Sāmoa expert from their community. "This was really valuable because he gave us feedback on our pronunciation, and even more ideas about what we could include," Amelia says. 
"My mission is to inspire a new generation of Pacific nations and Māori leaders in the tech industry," said Togiaso. "These groups are underrepresented in tech today, and we have so much to offer. I want our kids to see careers in tech as a genuine pathway in their future."
In September 2020, the Digi Navigators were invited to pitch their idea at an event designed to increase opportunities for the next generation of Pacific nations tech innovators. In front of an audience of 50 local tech experts, investors, and teachers, five Digi Navigators presented their business case, demonstrated the app prototype, and answered questions from the crowd. They also received feedback from a local angel investor that has promised to provide continued support and mentorship to grow their idea.
"It was really cool to be able to teach our friends to speak Samoan using an app that we designed ourselves," says Leonie Bradbrook, a year 6 student. "I would love to create more apps and help my friends."
Back in regular lessons and at home, the Digi Navigators' teachers and parents have noticed the deeper connection the students have forged with their culture, and their improved sense of themselves as capable and confident creators.
"In Pacific cultures, we achieve together," says Togiaso. "It's not about any one individual's success — nobody is left behind. This experience showed our students that it is not enough for a smaller team to excel. For everyone to achieve, they all had to collaborate and make sure everybody was doing well.
"It's ingrained in us to give back to our communities," Togiaso continues. "These kids will be an amazing force for good not just in their
aiga

 
(family) — they have so much to offer the world."
Bromley School students Amelia Abohay and Leonie Bradbrook work on the Let's Speak Samoan app prototype.
Gallaudet University fourth year Ph.D. student SaraBeth Sullivan attends her advanced statistics class using Sidecar with iPad Pro and MacBook Pro, giving her more screen options for presentations, shared work, and viewing.
This summer, Gallaudet University students and faculty received a special welcome kit. Inside, they found some essential Bison gear — the school's mascot — including stickers, a notebook,  and a few powerful learning tools that would be essential for the remote fall semester. Every student and faculty member was equipped with a new iPad Pro, Apple Pencil, and Smart Keyboard Folio.
With iPad Pro, Gallaudet marks the next chapter in its mission to offer students the knowledge and practical skills vital to achieving personal and professional success. It's also a core component of Connected Gallaudet, an initiative that consists of three imperatives in the university's strategic plan: equity and belonging, bilingual mission, and innovation.
"We are grateful to Apple for entering into this exciting collaboration with us, and for its support in so many other ways," says Roberta J. Cordano, president of Gallaudet University. "While Connected Gallaudet was in the works even before the novel coronavirus pandemic, it has become transformational for us as we moved entirely online for the fall semester."
Gallaudet University has always been a center of advanced learning and teaching approaches. From its founding in 1864 with 8 students who are deaf, to its thriving university community of over two thousand students and faculty today, Gallaudet has become the premier higher education institution for the Deaf and Hard of Hearing community. As many schools around the world face the challenges of remote learning with online classes, Gallaudet rises as an example for what educators and students can do with their creativity powered by personal technology.
SaraBeth Sullivan enjoys the seamless experience of Apple Pencil in the Notes app.
SaraBeth Sullivan, a fourth year Ph.D. student in the university's Educational Neuroscience program, finds the flexibility of iPad Pro extremely helpful. With iCloud she can synchronize files across her devices, and she takes full advantage of Sidecar, making use of an extra screen during online class presentations. These features help remote learning experiences stay personal.
"In my advanced statistics class using R to analyze data, I was struggling with a piece of code that was giving me repeated errors," Sullivan says. "I was able to share my screen with my professor over Zoom and hand over controls to her. She was able to work on my iPad, working on my code, solving the issue! Without my iPad, this would have been more difficult."
iPad Pro is also designed with intuitive accessibility features built in, including Live Listen for fine-tuning AirPods and hearing aids, as well as closed captioning for reading dialogue and displaying music and sound effects while watching movies and TV shows. The App Store on iPad and iPhone also features dual language apps. 
"I can connect my hearing aid to my iPad using Bluetooth," Sullivan says. "And for students, I recommend VL2 Storybook apps that support learning in both American Sign Language and English."
SaraBeth Sullivan pairs her hearing aid using Live Listen on her iPad Pro and iPhone 11 Pro.
Gallaudet's use of technology is an important part of all of its academic programs and services. Nearly all courses at Gallaudet have an online component, and students take at least one course with an online learning system. This level of technological integration is higher than average for universities nationwide, with courses at Gallaudet making extensive use of visual applications and video. Gallaudet students and faculty were well-prepared for today's challenges, harnessing the latest features and capabilities into their work.
Dr. Julie A. Hochgesang, Ph.D. and associate professor in the Department of Linguistics, teaches the field methods and phonology of signed languages, and researches language documentation and corpus linguistics. This means she is constantly observing, assessing, and researching how people use language. Dr. Hochgesang finds technology essential, often using Markup to make notes on raw data, AirDrop to share files, AirPlay for presentations, and Sidecar. When COVID-19 hit, many people who are deaf around the world were talking about the crisis. They were also figuring out
how
to talk about it.
"There were words and signs we were using for concepts most of us had never seen before," says Dr. Hochgesang. "I saw many videos and online written posts, and saw the different signs people were using. I was able to screen-record or take a screenshot of these examples and immediately mark them up and insert them in my Notes app or transfer them to my iMovie app to compile them."
Visual contact is crucial for Dr. Julie Hochgesang as she engages her linguistics class using Sidecar on her iPad Pro. 
The iPad Pro is also helpful in ensuring Dr. Hochgesang engages well with her linguistics students in remote classes by maximizing the sizes of their individual online screens on her screen. Visual contact is crucial.
"With my iPad Pro, I am able to connect to my computer and run my shared screen," says Dr. Hochgesang. "I use Keynote for all of my presentations, allowing me to view the presentation on my iPad Pro, and make all the emboxed screens even bigger allowing me to see all of my students." 
"We have established an open-mindedness and willingness to try different approaches that fit our customer the best."
Jasmin Leon, People Operations Planner at Apple Carnegie Library and Gallaudet University alum
Apple is also giving students opportunities in technology after they graduate from Gallaudet. Apple Carnegie Library, in Washington, D.C., holds several recruiting efforts with Gallaudet, and currently employs more than 30 team members of the Deaf and Hard of Hearing community. Many are Gallaudet alumni.
Jasmin Leon, a People Operations Planner at Apple Carnegie Library, and a 2019 Gallaudet alum, supports hiring efforts and has seen the innovation Gallaudet alumni have inspired across the team.
Jasmin Leon, a People Operations Planner and a 2019 Gallaudet alum, outside Apple Carnegie Library in Washington, D.C.
"We have established an open-mindedness and willingness to try different approaches that fit our customer the best," says Leon. "With the trust and strong collaborative relationship among us, we were able to create the best experience for all of us. It might be using iPad to communicate with a deaf customer. It can be launching the Big app on iPhone, but it's definitely teamwork with teammates who are deaf. We are constantly finding new ways to communicate with the Deaf community." 
Asked about her experience and preparation during her time at Gallaudet, Leon again mentions the University's tradition of pushing learning experiences forward.
"When I attended my social work classes, we would focus on the importance of technology and how it influences our youths, especially their early childhood education," Leon says. "We analyzed and discovered the results of early exposure to coding, reading, and how graphic design sparked their creativity and curiosity of learning. If I have to describe Gallaudet University in one sentence, it has to be innovation in technology."
This fall, Apple and Gallaudet have also collaborated on the inauguration of scholarships for students of color with disabilities who are pursuing degrees and coursework in information technology, computer science, and other science, technology, and mathematics fields. The new scholarships will also give students the opportunity to participate in Apple's Worldwide Developers Conference.
"It's an honor to work with such an innovative institution as Gallaudet," says Susan Prescott, Apple's vice president of Markets, Apps, and Services. "It's great to see technology have this kind of impact across an entire university while also bringing coding together with American Sign Language and creativity. It's so exciting that Gallaudet students will participate in WWDC next year."
Apple Distinguished Educator and Coppell Middle School East science teacher Jodie Deinhammer (left) uses iPad to engage students in the school's inaugural gardening class. Students can visit the garden on their own while class is held virtually.
Jodie Deinhammer is a problem solver. This fall, the Coppell Middle School East science teacher and Apple Distinguished Educator based in Dallas, Texas, is teaching the school's first gardening elective to eighth graders who will help tend the school's community garden. Never mind the fact that the class is being taught remotely and students can't visit the garden during school hours just yet. Deinhammer has long embraced technology in the classroom, equipping her students with both a practical hands-on learning experience and critical thinking skills since the district went one-to-one with iPad in 2014.
"Students having access to iPad has changed the way learning looks in my classroom," she says. "With iPad, each student can design their own learning path and use resources and accessibility features that cater to their individual needs. … They can create infographics, videos, or drawings, compose music, or write to show learning and growth over time. There's a lot more of an individual component to education through technology."
Deinhammer, who has taught with the Coppell Independent School District throughout her entire 25-year teaching career, believes technology can help students develop key problem-solving skills and the motivation to learn independently.
Apple Distinguished Educator Jodie Deinhammer, who has taught with the Coppell Independent School District throughout her entire 25-year career, believes learning must be relevant to each of her students to keep them engaged.
"With gardening, there's a lot of problem solving that has to go into it," Deinhammer says. "Our driving question for gardening is, How can we improve our garden space to make it more environmentally friendly and encourage more visitors, from more people in our community, to native animals and wildlife. I believe this challenges the students to think of the garden as a place to learn and a place to help others. We want our garden to be not only a place to learn how to protect the environment, but a place that's inviting to all."
Since the Coppell Middle School East's sustainability club — co-led by Deinhammer — planted the initial garden last year, the school donates its harvest to a Metrocrest Services community center in Coppell, which helps families and surrounding communities in need. "The more we can harvest, the more help we provide to our community," says Deinhammer.
Last year, inspired by the Everyone Can Create curriculum, Deinhammer developed and recently released the
"Everyone Can Create in Science"
book with fellow Apple Distinguished Educators. Many of those concepts are being applied to the gardening class, as Deinhammer believes creativity and flexible learning encourages students to grow. She uses iPad to design lessons and assignments for each of her students in a format — audio, visual, or written — that works best for them. Students capture their findings in a digital field guide created in Keynote, combining all of their work in a book to be shared with future gardening classes and the local community.
Coppell Middle School East eighth grader Stayton Slaughter uses the Measure app on iPad at the school's community garden.
Coppell Middle School East students Annabeth Hook (left) and Stayton Slaughter spread compost over eggplant and cauliflower plants at the school's community garden.
"The portability of the iPad allows us to work in the garden and use data collection sensors, the camera and magnifier, and the Seek app by iNaturalist to classify and identify garden weeds or bugs that we would otherwise not know," she says. "iPad allows kids to see a world literally through a new lens, from magnified images to time-lapse videos. They can capture a world around them that they may not have noticed in the past. I want kids to notice and appreciate the small details that they may otherwise overlook."
Stayton Slaughter, a student in the gardening class and a co-leader of the school's sustainability club, which started the garden last year, is a fan of Deinhammer's teaching style. "When I get to create my own final product, I can make something I'm truly proud of," he says. "When I go to the garden, I can take pictures; I can make observations with my iPad or iPhone. Learning digitally as well as physically gives me the resources and tools to make my own decisions, my own observations, and my own creations for class. It's a more enriching learning experience."
"Learning digitally as well as physically gives me the resources and tools to make my own decisions, my own observations, and my own creations for class. It's a more enriching learning experience."
For their first assignment, Stayton and his classmates submitted observations of two similar things in their environment in a format of their choosing. Stayton chose cacti and, using the Camera and Measure apps on iPad, captured his findings in an infographic drawn in Keynote. The class is currently examining sweet potatoes, the school's next harvest. Students will explore everything from how to plant them to the ideal soil pH and moisture levels needed to grow them. The students are interviewing community farmers and master gardeners on iPad to record and share their knowledge, and visiting the garden outside school hours to examine their crops' current conditions, track their growth, and turn over compost. 
Coppell Middle School East eighth grader Annabeth Hook completes her assignment on sweet potatoes using Keynote on iPad with Apple Pencil.
As Stayton describes it, his love for gardening was an accident. After starting a compost pile with some potatoes in his backyard, he noticed they started growing and didn't know what to do with them. He now grows herbs, more potatoes, and sunflowers. "The environment is something that we need to protect," he says. "Everything that we have — our clothes, our medicines, our materials, our iPads — is made from things from the environment. It's important to make that connection to things in your everyday life, so you can make a better connection to your own actions."
Another student, Annabeth Hook, signed up for the gardening class to understand why certain plants require different types of care. She also sees the value in learning about the environment from Deinhammer. "She's a big advocate for climate change awareness and taking care of the environment," Annabeth says. "We need to turn ourselves around, or at least try to, and take care of our environment 'cause it could mean the end of the world for us."
Apple Distinguished Educator Jodie Deinhammer hopes her students will finish her gardening class with a new perspective on the world.
Both Stayton and Annabeth gravitated toward Deinhammer's teaching approach. Deinhammer hopes that her student-centered curriculum will spark the curiosity needed for her students to create their own learning journeys for the school year and beyond.
"I want the kids to explore community needs," Deinhammer says. "How can our garden help our community in more ways? What can we do to encourage future generations of gardeners in our schools? I hope by the end of the year, students are challenging themselves to see the world in a different way."
Community Education Initiative helps with coding, creativity, and pivoting to a remote teaching environment
This article originally appeared in
Newsroom
As with many educators, Portrice Warren will be teaching remotely this year. Warren, who is part of Apple's Community Education Initiative, says she plans to use Apple tools and resources to enhance her students' virtual experience.
As Birmingham City Schools fourth grade science and social studies teacher Portrice Warren gets ready to start her classes remotely, she is keenly aware of the challenges this year brings.
"Planning is going to be a key factor for me as an educator, but I know Apple resources are helping give me the roadmap I can take moving forward with my students," says Warren. "I also know I have to keep myself balanced, because I'm going to have 64 students and 100-plus parents that I'm going to have to be a source of encouragement for."
Warren is one of nearly 500 educators who participated in a massive virtual coding academy this summer as part of Apple's Community Education Initiative (CEI), designed to bring coding, creativity, and workforce development opportunities to learners of all ages and to communities that are traditionally underrepresented in technology. Apple facilitates and supports CEI programming in 24 cities and regions across the US, 21 of which predominately serve majority Black and Brown students. As part of CEI, Apple also recently announced an expansion of its partnership with Historically Black Colleges and Universities.
As a part of Apple's Community Education Initiative, Birmingham City Schools teacher Portrice Warren has access to ongoing professional learning opportunities and a community of educators to share best practices on remote learning.
The purpose of this year's coding academy was not only to help educators learn the tools to code and teach coding, but to do so in an environment in which remote learning is considered the new norm. It's just one of the many ways that Apple is using its CEI program to help teachers prepare for a school year unlike any other — hosting opportunities for them to see what learning remotely will be like for their students, and troubleshooting issues before classes begin.
Throughout the weeklong virtual coding academy, Warren and the other educators took on the role of student and worked together remotely using Apple tools, including the Everyone Can Code and Develop in Swift curricula, to design apps that solve real-world problems, an approach called challenge-based learning.
Warren believes challenge-based learning and the other Apple tools she used at the coding academy will be a game changer for her students and help her navigate the move to remote instruction.
"Especially now that we are transitioning to remote learning and students won't be in the same physical classroom with their friends, challenge-based learning is going to be one of the tools that will take my students' learning to the next level," says Warren, who already incorporates Apple apps like Clips into her teaching. "I see this method as a motivational tool. I can use Keynote throughout my curriculum to give students the freedom to take what they know and to use their own giftedness, their own learning style, to recreate knowledge in their own way."
"Ten years from now, I want my students to look back and see the powerful impact remote learning had on them, and that it was a positive transition."
Birmingham has been part of the CEI program for the past year and serves as a model for what is possible when a community comes together with a shared mission. Apple worked with the Birmingham City School System, the City of Birmingham, and other community and corporate partners to launch Ed Farm, a groundbreaking education initiative focused on bringing innovative learning strategies and coding opportunities to underserved communities across the city. It's through Ed Farm that teachers like Warren have had the opportunity to dive deeper into Apple's coding and creativity tools, and collaborate with other teachers to integrate those resources into their lesson plans.
Last year, Warren joined Ed Farm's first cohort of Teacher Fellows — educators singled out because of their passion for creative learning techniques.
"The partnership with Ed Farm has given me that extra boost, that extra energy, to ignite my students' learning in the classroom," says Warren. "Since the pandemic started, they have been there every step of the way to help. I can reach back at any time and say, 'Hey, I tried this and I learned this, but it's not working. Can you give me some additional support?' And I know they are alongside me."
Tapping into the technology and resources supported by CEI and Ed Farm, Warren and her Teacher Fellow peer Karita Sullen partnered with the Birmingham Civil Rights Institute to start a program called Cultivate Change, which helps students navigate racial tensions and communicate their feelings in a world where they are facing both a public health pandemic and systemic racial injustice.
"We wanted to give students a safe space because you don't just learn about history in textbooks," says Warren. "If in the midst of face-to-face confrontation they can apply some of the strategies they're learning through these courses to problem-solve and survive some challenging things in their communities, then I think it's all been worthwhile."
Throughout the summer, the teachers hosted weekly remote meetings where students could voice their feelings and find support. Warren saw a change in one student, who had struggled academically during the school year, almost immediately.
"He felt a sense of success and a sense of responsibility — he didn't miss a single meeting — and I thought, technology played a huge part in that," says Warren, who plans to restart Cultivate Change once the fall semester begins. "Because in person, he's a little bit more reluctant, but I think this remote learning helped build his confidence to the point that he wanted to be a part of it."
In response to the COVID-19 pandemic, Apple also launched the CEI Learning Series, whereby hundreds of teachers from around the country can meet virtually to share best practices on remote learning. Warren is already applying the tools and strategies she's learned through Ed Farm and the CEI Coding Academy, and is looking forward to attending CEI Learning Series events scheduled for this fall. After more than 30 years of teaching, she recognizes the importance of this moment, and her mission.
"Ten years from now, I want my students to look back and see the powerful impact remote learning had on them, and that it was a positive transition," says Warren. "There are going to be a lot of challenges, but I won't let my students fall through the cracks. I know there is going to be a lot of hard work involved, but in the long run it will pay off. And that investment in their future is my purpose."
This summer, Portrice Warren and another Birmingham City Schools teacher created an interactive curriculum to give their students the opportunity to talk about race and justice.
Palash Taneja, Devin Green, and Sofia Ongele are all WWDC20 Swift Student Challenge winners.
When the Apple 2020 Worldwide Developers Conference kicks off on June 22 in a new virtual format, a global community of 23 million developers will have the opportunity to join from around the world for free through the Apple Developer app and the Apple Developer website. Now in its 31st year,
WWDC20
 will bring together the largest group of innovators and entrepreneurs ever assembled to connect, share, and create.
Among them will be 350 Swift Student Challenge winners from 41 different countries and regions. The students were chosen based on their original Swift playground submission, part of Apple's annual WWDC student challenge, which recognizes and celebrates the next generation of coders and creators.
They include Sofia Ongele, Palash Taneja, and Devin Green. These teens share a life goal best summed up by Ongele: "Make some tech and do a whole lot of good along the way." All three view challenges in the world as opportunities to effect change. Every problem is a call to action — and they are answering, loud and clear.
Sofia Ongele hopes to one day be a judge or run for political office.
For Sofia Ongele, 19, who just finished her sophomore year at New York's Fordham University, her focus for change lies at the intersection of tech and social justice. ReDawn, her first iOS app, is a powerful example. After one of her college friends was sexually assaulted during her freshman year, Ongele created ReDawn to help survivors access resources in a safe, easy, and sensitive way.
"I wanted to make something that makes this process less isolating," says Ongele, who has been approached by organizations that want to partner with her on the app. But the most important feedback she has received came from the friend who was assaulted. "She thinks it has the potential to impact people, and that's what matters most to me."
Ongele was introduced to coding in 2016 when she attended a Kode With Klossy boot camp, a free coding course for girls ages 13 to 18. Ongele says that learning to code transformed her world.
"There was a 180-degree paradigm shift within my brain — I was like, this is what I want to do," says Ongele, who went on to teach with the program. "I'm so passionate about passing on that knowledge to more women, and women of color, so that they wouldn't feel that this is a field that's too out of reach for them to pursue."
Ongele counts Supreme Court Justices Sandra Day O'Connor and Ruth Bader Ginsburg and Representative Alexandria Ocasio-Cortez as heroes, and is trying to decide between law school or politics — or both. Regardless of the path she chooses, she knows that her coding skills will be part of the journey: "At the end of the day, I just want to be able to use tech for social good."
Palash Taneja, 19, grew up in New Delhi, India. Four years ago, he contracted a severe case of dengue fever, a mosquito-borne virus that left him hospitalized.
"That whole experience of two to three months of suffering — I think that really inspired me to learn programming and to use it as a problem-solving tool," says Taneja, who just finished his freshman year at the University of Texas at Austin.
Palash Taneja drew on his own experience with illness to help others.
He went on to create a web-based tool that uses machine learning to predict how mosquito-borne diseases like dengue fever would spread. And for his Swift Student Challenge submission this year, created against the backdrop of COVID-19, Taneja designed a Swift playground that teaches coding while simulating how a pandemic moves through a population, showing how precautions such as social distancing and masks can help slow infection rates. He created it to help educate young people, after he saw others not taking warnings seriously.
Taneja is also passionate about education. In India, while still a teenager himself, he volunteered teaching English and math at a school for students whose families couldn't afford to pay tuition. Before he left for college in the US, he created a program that translates popular online education videos into roughly 40 languages, so that children who don't have physical access to quality education can learn on the web.
"I really enjoy working with children, and I think education is one of the things that can create the biggest impact in someone's life," says Taneja, "especially someone in a developing country." 
Devin Green loves solving problems with technology and looks to his surroundings for inspiration. While finishing his senior year of high school at home due to COVID-19, he used his bedroom in Castro Valley, California, as a laboratory.
Devin Green's apps and inventions are inspired by the world around him.
The 18-year-old, who will start his freshman year at Stanford in the fall, was having trouble waking up in the mornings, so he designed a program using a pressure mat under his bed. If weight is still on the mat after he's supposed to be up, an alarm goes off and won't stop until he uses his phone to scan a QR code.
"There are 12 different QR codes around my house, and it's randomized every morning," says Green. "So I never know exactly where I have to go to shut the alarm off."
This same spirit of innovation permeates everything that Green creates. His winning Swift Student Challenge playground features an artificial-intelligence robot named Stanny that can recognize and respond to 63 different comments and questions.
Green also has two apps on the App Store, the first of which he built when he was 13. The second, called Slight Work, is a homework app that uses the Pomodoro Technique to maximize work time with structured breaks. He and his high-school classmates used it throughout their senior year, as did friends in college.
When Green thinks about the future, he hopes to use his problem-solving skills to effect change on a much larger scale.
"Social justice and politics are areas I really want to contribute to," says Green. "Giving people access to the materials they need to stay educated about current social matters or access to voter registration or basic citizenship rights — solving those problems is really important to me."
Apple is proud to support and nurture the next generation of developers through its annual WWDC student program — and it's just one of the many ways that WWDC20 is recognizing and celebrating coders and innovators of all ages and backgrounds. For the first time ever, there will be a special collection of curated sessions perfect for budding coders and designers, and daily Swift Playgrounds challenges that anyone can participate in and enjoy.
This October, in classrooms across Europe celebrating EU Code Week, students of all ages are living proof that coding opens doors to opportunities never before possible. At Layton Primary School in Blackpool, England, coding principles are helping 5- and 6-year-olds track down a rogue dinosaur. And in Italy, at Milan's Institute De Amicis, coding is the key that unlocked a life-changing career for 28-year-old Belinda Tagariello.
These schools are part of a growing number of European institutions relying on the power and versatility of iPad, Mac and Apple's Everyone Can Code and App Development with Swift curricula to teach coding to a new generation of students. Both schools say the programs have led to more engaged, innovative learning with proven results.
"There will be an output if they put in an input — they are more resourceful in terms of being able to tackle problems."
Meet teachers Alice Nutt and Clare Scott. They were introduced to coding only two years ago, and now use Swift Playgrounds to incorporate coding principles into every subject they teach to their young pupils at Layton Primary School in Blackpool, England. The school, located in one of the most deprived areas of the country, has seen a remarkable change in its students since the program began.
"Children would sit there [before] and wait for things to happen," says Scott, 45, who has been teaching for more than 20 years. "But children with a coding mentality know that if they do something, something will happen. There will be an output if they put in an input — they are more resourceful in terms of being able to tackle problems."
That coding mentality has proliferated every area of the school, and students apply coding principles to all subjects, most often through Swift Playgrounds.
"We realized we'd already been using the skills of coding everywhere in the curriculum," says Nutt, 28. "When we write, we go back and edit and improve it — we were debugging. We sequence stories, we sequence events and things that we do in our everyday lives. So it's just making everyone at the school realize that coding really is all around you."
In Scott's classroom, her 5- and 6-year-old students practice coding skills in tasks both ordinary and extraordinary. She posed a problem to them: how do you get an escaped dinosaur back into the zoo? Her students decided they would make jam sandwiches and leave them out for the creature.
Scott brought in bread, butter and jam and asked her students to give her step-by-step instructions on how to construct the sandwich. The exercise introduced them to the individual commands required to execute a coding sequence.
"We then left the jam sandwich outside the classroom overnight," says Scott. "And obviously the dinosaur came back and ate it — the next day there was just a crust."
In Italy, Belinda Tagariello spent most of her 20s bouncing from one unfulfilling job to another. In 2017, she enrolled in a government-funded course that taught Swift, Apple's powerful and easy-to-use programming language, to under- and unemployed young adults at the Institute De Amicis in Milan. As a first-time coder, Tagariello learned coding basics in Swift Playgrounds on iPad and quickly advanced to App Development with Swift on the Mac to start building something of her own.
Fast forward to today and Tagariello now teaches that same course, has one app already on the App Store, and is working on developing her second.
"When I started to develop the app, I started to feel free because I could do it myself," says Tagariello. "When I found this, I found my way."
Forty-one students have completed the course and collectively they have produced 14 apps in two short years. Sixteen of the graduates have found jobs in the tech industry, and five have decided to enroll in university.
This October, Tagariello will welcome the third cohort of 29 students, most of whom have no coding experience. But their teacher says they shouldn't be dissuaded by that — and she speaks, of course, from experience.
"[When I started] I didn't know anything about coding so they could take me as an example," says Tagariello, who first introduces her students to coding through Apple's fun and engaging Swift Playgrounds app for iPad and gradually progresses to App Development with Swift curriculum on Mac. "If they apply themselves to this course they could go very far, farther than me — they could find their way."
Apple's Everyone Can Code helps students from kindergarten to college and beyond learn coding to solve problems and prepare them for the workforce. With teacher guides and lessons, students learn the basics on iPad with Swift Playgrounds and App Development with Swift helps aspiring developers build their first iOS apps. Today more than 5,000 schools, community colleges and technical colleges worldwide are using Everyone Can Code curriculum. Find out more at
apple.com/everyone-can-code
.
When words aren't enough, teachers find a common language with iPad
A
single voice calls out "Sabah-ul-khair" and an eager chorus returns the greeting.
At the beginning of each language class at Wilhelm Ferdinand Schussler Day School in Dusseldorf, Germany, teacher Nick Kyriakidis asks a different student to say "good morning" in his or her native language. On this morning, as is the case most often now, that language is Arabic.
The diversity of this classroom is a reflection of the changing face of Germany and Europe. Over the last five years, the region has seen the largest influx of immigrants and refugees since World War II. Many have fled violence and war in the Middle East, which presents a unique set of challenges to educators, who are not only contending with different languages, but entirely different alphabets. In some cases, new arrivals have never stepped foot in a classroom before.
For Kyriakidis, 47, and his colleague Sinaan El Haq Hadjeri, 31, who alternate teaching the class on different days, one of the most powerful tools they have to bridge that language divide is iPad.
"Kids withdraw when they're afraid of [making] mistakes," says Kyriakidis. "If we try to reduce this fear, it's much easier for them to work with us because they don't have anything to lose."
"With iPad … it's different than when they write something [on paper] and I come in with my red pen and say 'that's wrong,'" says Hadjeri. "[With iPad] they learn for themselves."
Of the school's approximately 325 students who come from 39 different countries, about 20 percent are "Deutsch als Zweitsprache" (DAZ), which translates to "German as a Second Language." Of the seven students in class today, four are from Syria, and the other three are from Afghanistan, Iraq and Kenya.
Since the school began the 1:1 iPad program, where every student has access to their own iPad, 100 percent of participants have graduated, an increase of more than 20 percent. And nowhere is the difference more transformative than with the DAZ students.
That includes Medina Ibrahim, 13, and her brother Mohammed, 16, who came to Germany with their parents and two younger siblings. Their journey from Aleppo, Syria, took them through Turkey before the family settled in Dusseldorf.
Medina says that when they arrived they were very lonely because they couldn't speak a word of German and had trouble making friends.
Over the course of the last year, Medina, her brother and the other students in this class have worked with their iPads daily, including using a number of lessons that Kyriakidis created with Keynote. Today, Medina assembles a sentence into the correct word order, and uses Voice Record to say it in German into her iPad. It gives her and the other students the opportunity to sound out foreign words by themselves, without fear of embarrassment, and to work at their own pace.
Schools all across Europe are finding new ways to use Apple technology to help teachers and students connect and communicate.
"I want to be someone who loved them, taught them and inspired them. Someone who helped them arrive."
At College Daniel Argote in Pau, France, students are sent home with a video lesson recorded by their teacher on their iPad, and the next day work through their "homework" in class. This way, students whose parents aren't fluent in French are able to extend their learning both inside and outside the classroom.
At Stenkulaskolan School in Malmo, Sweden, where 98 percent of students speak Swedish as a second language, teachers have seen an 80 percent jump in math grades since they started sending home similar instructional videos, recorded by a teacher in Swedish.
And at St. Cyres School in Penarth, Wales, the 2018 senior class of English as an Additional Language students working with iPad increased their grades by an average of 3.8 points during the year — outperforming their peers who speak English or Welsh as their native language for the third year in a row.
In May, Apple announced that Malala Fund was joining its partnership with vocational school Simplon to teach the coding language of Swift to underserved groups in France, with a new focus on refugee and displaced young women. Apple's Everyone Can Code curriculum will help them gain the practical skills needed for a career in software development. Apple will provide funding for teacher recruitment and training, as well as devices including iPad.
Kyriakidis and Hadjeri say they wish they had access to today's technology and support when they were young. As children, both men came to Germany unable to speak the language, and know what it's like to feel isolated in a new place. It's also one of the reasons why the students are fiercely connected to both teachers — a feeling that goes both ways.
"They're like my children," says Hadjeri, who on numerous occasions arrived at school to find a student absent, only to learn the family had been deported. "I want to be someone who loved them, taught them and inspired them. Someone who helped them arrive — that's what I always wanted but never had. Someone who tells you … don't be discouraged, you'll get there."
Over the course of the last year, Medina and Mohammed have progressed so much that this will be their last semester of DAZ classes with Kyriakidis and Hadjeri. Medina recently gave a presentation on Napoleon to her history class, created in Keynote and delivered completely in German. She hopes to one day be an engineer, and her brother, a pharmacist.
Through a translator, Medina says that she was happy back in Syria, but now here in Germany, she isn't just happy, she is safe.